The value of Vic's gastronomy is clear to see in the production of select cured sausages, the wealth of local produce, the importance of local markets and the existence of first-class restaurants. There is also another essential ingredient, namely the work done by the Osona Cuisine Association, the Osona Hotel and Restaurant Guild and the Osona Catering School. These three organisations promote the area and its cuisine through a variety of initiatives, some of which are aimed specifically at guild and association members, and others of which are for a broader public. The activities carried out by Vic City Council to promote gastronomy in the area enjoy the support of these professional associations. One of the most important gastronomic elements in the county of Osona is pork, present in mouthwatering charcuterie products and the culinary proposals of the city's restaurants, popular with locals and visitors alike.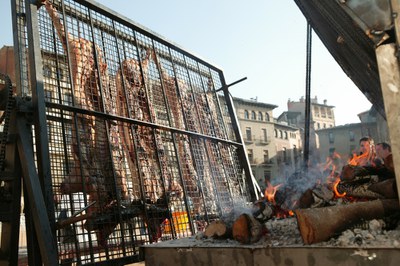 Tasting of pork products in the Plaça Major, organised by Osona Cuisine.
Special days devoted to promoting and exploring this traditional Catalan dish consisting of a pasta broth followed by stewed meat and vegetables.