Vic is a city with something for everyone, a city full of history, fairs, markets, gastronomy, a city whose cultural vitality makes it especially attractive. Vic's rich history is present in the streets and squares of the historical centre, where buildings in all sorts of architectural styles can be found. The historical centre and museum are accessible for visitors in wheelchairs and offer activities and guided tours especially adapted for people with disabilities.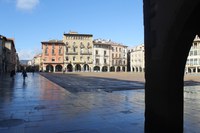 The historical centre, arranged around the Plaça Major, has always been the commercial centre of the county and the square has housed the market since time immemorial. Among its key features are its arcades, which despite having different architectural styles present a harmonious whole. The historical centre boasts buildings from all the periods and styles that comprise Vic's rich architectural heritage.
Information number: 93 886 20 91
Group tours with advance booking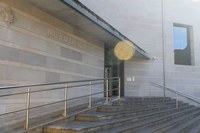 The Medieval Art Museum of Vic is one of Catalonia's most important museums. The museum is best known for its Gothic and Romanesque sculpture and painting collections. Nevertheless, the collections devoted to archaeology, textiles and liturgical garments, wrought ironwork, and gold and silversmithing are among the finest in Catalonia.
The museum is a space free of architectural barriers and offers activities adapted for visitors with visual and mental disabilities.
Information number: 93 886 93 60
Group tours with advance booking
www.museuartmedieval.cat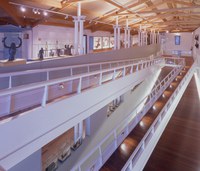 The Leather Art Museum (MAP) displays the collection put together by the Vic tanner Andreu Colomer Munmany, comprising a thousand objects crafted entirely or partially in leather. The pieces show the great richness in style and technique of this kind of decorative art which comes from a variety of periods and cultures. The collection is highly varied, featuring chests, folding screens, antependia, desks, book bindings, bags, armchairs, saddles, shields, containers, masks and shadow theatre figures, etc.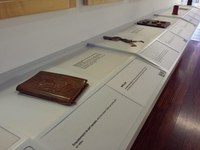 The "Looking through Touch" space at the Leather Art Museum: a tactile and visual space that complements and facilitates the contents of the permanent exhibition, especial adapted for visitors with visual impairments, blindness or reduced mobility

Telephone: 93 883 32 79
Group tours with advance booking
www.museuartpellvic.cat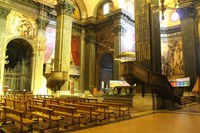 The Cathedral 
The cathedral churches and the other buildings that formed part of the bishopric's allodium were founded in the 11th century in the lower part of the historical centre, close to the river. The crypt and the Romanesque bell tower survive from that period. Noteworthy features in the present-day neoclassical cathedral include the 14th century Gothic cloister and the alabaster altarpiece by Pere Oller, in the same style. From the baroque period, the chapel dedicated to Sant Bernat Calbó is a particular highlight.
The mural decoration of the central nave, the most important work by Josep M. Sert, enriches the artistic value of the cathedral as a whole.