Segway tour of Vic with an audio guide; a fun way to explore the city.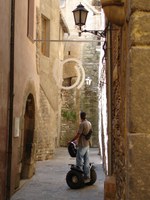 The Segway tour around Vic's historical centre, with a Segway instructor and an audio guide, is a different and fun way to explore the city! 
Departure point
Vic Tourist Office (Plaça del Pes - City Council)
Information and bookings by phone: 93 886 20 91
Duration
1 hr. 30 min. (includes a few minutes of instruction for beginners)
Times
By arrangement
Prices
Price: €40 per person (includes hire of an audio guide with tourist information).
Groups of up to six people and at least two people. Advance booking required.
Activity offered by the company SOTACINGLES S. L. (B – 62221585) in partnership with the Tourist Office.