This museum exhibits the decorative and applied leather art collection put together by Andreu Colomer Munmany, focusing on objects crafted entirely or partially in leather.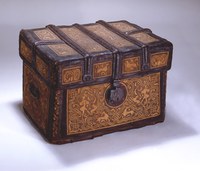 The Leather Art Museum boasts a heterogeneous collection featuring chests, folding screens, antependia, desks, chairs, saddles, masks and shadow theatre figures, etc. 
The exhibits, of great artistic value and from a wide variety of places and periods, showcase an array of leather-working techniques, such as guadamassil (polychrome or gold-embossed lamb leather), used for the production of wall coverings, antependia and folding screens, etc., and cuir de Cordoue (high quality goat leather), applied to chests and boxes.
Focusing on artistic leather work, the permanent exhibition covers the history of decorative and luxury arts in Europe, with incursions into Chinese and African cultures, among others.
Opening times
From Tuesday to Friday, from 10 am to 1 pm and from 4 pm to 7 pm 
Saturdays, from 11 am to 2 pm and from 4 pm to 7 pm 
Sundays and public holidays, from 11 am to 2 pm
Closed on Mondays, from 1 to 6 January, Easter Monday, 25 and 26 December 
Schools and groups, extended opening times. To book a visit please call 93 883 3279 
Admission prices
General admission: €3
Concessions: €2
Pensioners, unemployed, young people aged 10 to 18, holders of student cards, youth cards, large-family cards, youth hostelling cards and groups (from 15 people)
Free admission
Children under 10, members of the ICOM and of the Association of Museologists of Catalonia, students (accredited research project)
First Thursday of the month, 18 May (International Museum Day) and 5 July (Festa Major of Vic)