The MEV is one of Europe's leading museums, housing one of the best collections of Romanesque and Gothic art in the world.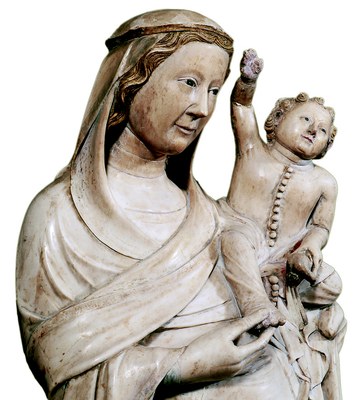 The museum was founded in 1891 and has been housed in various venues. Its current home, designed by the architects Federico Correa and Alfonso Milà with made-to-measure spaces for each collection, was officially opened in 2002. The museum is best known for its truly outstanding Gothic and Romanesque sculpture and painting collections. Nevertheless, the collections devoted to archaeology, textiles and liturgical garments, wrought ironwork, and gold and silversmithing are among the finest in Catalonia.
Opening times
From Tuesday to Friday, from 10 am to 7 pm (from April to September) 
From Tuesday to Friday, from 10 am to 1 pm and from 3 pm to 6 pm (from October to March)
Saturdays from 10 am to 7 pm 
Sundays and public holidays from 10 am to 2 pm
Tickets on sale until half an hour before closing time
Closed on Mondays, from 1 to 6 January, Easter Monday, 25 and 26 December 
Activities

Guided tours
Free tours for museum visitors:
Mediaeval trail: guided tour every Saturday and Sunday at noon
Discover the mediaeval world: family activity every Sunday at 11 am
Romanesque vision:
MEV + Bell tower, first Saturday of the month at 10.30 am
€8.50 per person, free for children under 10
Limited places. Advance booking
Guided group tours:
Group tours with pre-arranged date and time. Catalan, Spanish, French and English
Tour of the Romanesque and Gothic rooms (1 hour 30 minutes): €55 (not including admission)
Pre-arranged tour of all the collections (2 hours): €70 (not including admission)
School visits
Wide range of activities for infant, primary, secondary, vocational training and university students. 
Adults
We offer educational activities for all sorts of groups: associations of various kinds, groups and collectives, adult and senior citizen classes, teaching staff... see the "what's on" guide
Admission prices
General admission: €8
Annual season ticket: €12 (free admission to the museum for one year from the purchase date)
Concessions for groups (from 15 people): €5
Concessions (pensioners, unemployed, young people aged 10 to 18, holders of student cards, youth cards, large-family cards, single-parent-family cards and TR3SC club cards): € 5
Free admission: Children under 10, members of the ICOM and of the Association of Museologists of Catalonia, first Thursday of the month, 18 May (International Museum Day), 5 July (Festa Major), students (accredited research project), MEV permanent pass holders, accredited teachers and journalists, Club Super3 members
Services
Multimedia guide in Catalan, Spanish, English and French - Shop - Wi-Fi throughout the building - Cloakroom and lockers - Rest area - Auditorium - Library - Building adapted for persons with reduced mobility - Wheelchairs provided