The MEV is one of Europe's leading museums, housing one of the best collections of Romanesque and Gothic art in the world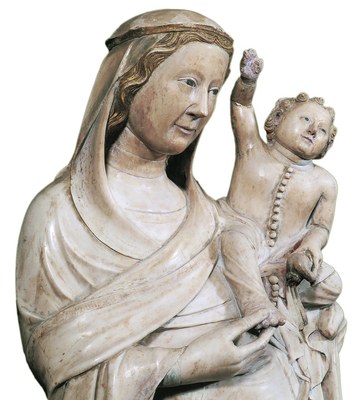 The MEV, Medieval Art Museum of Vic is a connecting arch between the medieval past and the present world. An international reference in Catalan Romanesque and Gothic art, the museum not only houses and exhibits its collection, but also seeks to be a pioneer in the story surrounding medieval art: how did you travel in the Middle Ages? What were the medicines of the time? How was the money used? How was society organized? What pigments and materials did medieval painters use? How was the experience of entering a Romanesque cathedral? In short, how did you live in the Middle Ages? These and many high questions related to the medieval world are what we can answer through the collection offered by the museum.
In order to transport us to the Middle Ages, the museum has a key ally: the most modern digital techniques. By applying them, the MEV manages to be a more social museum and more open to everyone: with digitization, the collection becomes interactive and the visitor perceives it in its entirety, from emotion, to hearing the stories, already either from the museum itself or from any other point.
An example of this digital transformation is the new immersive space, which becomes an educational and informative tool, being the piece that gives the necessary context to the Museum's medieval art collection and, therefore, the gateway to visit the MEV. It will also be the new guiding thread of the museum's proposed educational activities: a good number of cultural, family and school activities will pass through the space in order to learn about the context of one of the medieval art collections most important in the world


Plaça Bisbe Oliba, 3 
08500 Vic (Barcelona) 
Tel. 938 869 360 
Fax 938 869 361 
Opening times
From Tuesday to Friday, from 10 am to 7 pm (from April to September) 
From Tuesday to Friday, from 10 am to 1 pm and from 3 pm to 6 pm (from October to March)
Saturdays from 10 am to 7 pm 
Sundays and public holidays from 10 am to 2 pm
Tickets on sale until half an hour before closing time
Closed on Mondays, from 1 to 6 January, Easter Monday, 25 and 26 December 
Activities

GUIDED TOURS
Today, a thousand years ago visit the immersive room and medieval art collection of the MEV.
Scheduled Saturdays and Sundays at 12 p.m. Price €8.
Family activities Saturdays at 17.00pm  €4,5 per participant
Group visits by prior arrangement of day and time
· Visit to the Romanesque and Gothic areas (1 h 30 min)
· Guided tour of all collections (2 h)
GUIDED TOUR OF THE TEMPORARY EXHIBITION from 30/03 to 17/12
BESTIES , Sundays at 12.30pm, is included in the ticket price
SCHOOLS
Wide range of activities for primary, secondary, vocational training and university students
ADULTS
We offer educational activities for a wide range of groups: associations of various kinds, groups and collectives, adult and senior citizen classes, teaching staff... Consult schedule
Admission fees
Individual TICKET: €8,5
Reduced entry fee for groups: €5.5 (15 people minimum)
Reductions: €5,5 (senior citizens; the unemployed; young people aged between 10 and 18; holders of student cards, youth cards, large family cards, single-parent cards and club TR3SC cards)
Free of charge: Children aged 10 years or under, members of the ICOM and the Museologist Association of Catalonia, the first Thursday of each month, May 18th (International Museum Day), July 5th (Vic fair), students carrying out research work (with credentials), MEV permanent pass holders, teachers and journalists with credentials
Services
Multimedia guide in Catalan, Spanish, English and French - Shop - Wi-Fi throughout the building - Cloakroom and lockers - Rest area - Auditorium - Library - Building adapted for persons with reduced mobility - Wheelchairs provided