"Looking Through touch" at the Leather Art Museum: a tactile and visual space that complements and facilitates the contents of the permanent exhibition, especially adapted for visitors with visual impairments, blindness or reduced mobility.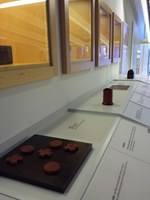 "Looking through Touch" invites you to discover the tactile sensations of leather, taking you on a journey of the senses through four techniques used in leather art: engraved leather, openwork leather, water-hardened leather and guadamassil (polychrome or gold-embossed lamb leather).
These techniques are presented in a touch display module with large print and transparent Braille overlays, using four objects representing each of the techniques: an engraved chest, an openwork shadow theatre figure, a water-hardened leather container and a fragment of wall covering made using the guadamassil technique. 
 The multi-sensory modules have been designed as an initial accessibility initiative aimed at enhancing a specific and important aspect of the museum's permanent collection.
"Looking through Touch" is an initiative of the Cultural Heritage Office of Barcelona Provincial Council, organised and sponsored in partnership with the Leather Art Museum.
Expert advice has been provided by the Osona branch of the ONCE (Spanish Organisation for the Blind) in order to produce the module. The leather artisans Nquart and Lutson and the wood artisan Joan Herrada have participated in the project.
For more information:
Leather Art Museum
Tel. 93 883 32 79 
More information about La Mirada tàctil