So strong is the tradition of Vic's weekly market that it is one of the main images that visitors expect to find. New markets have emerged over the years and today the city boasts three weekly markets and various monthly markets that bring in visitors from across the county of Osona and beyond.
Weekly markets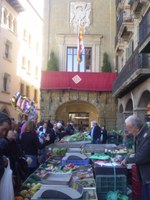 The Mercadal (Market Square) or Plaça Major is one of the best known and most dynamic sites in the city. This is where the weekly market is held every Tuesday and Saturday. The market has been held here since the 9th century, long before the first houses that frame the present-day square started to be built. Today you can still find stalls selling local produce, flowers, crafts and poultry, along with others selling clothes and accessories.
Every Tuesday and Saturday, Vic Market is full of life, attracting visitors from across the county of Osona and beyond.
In recent years Vic has been open for business on Sunday. The city has a new market in the Remei-Estadi neighbourhoods.
It's on Passeig de la Generalitat and is open every Sunday from 9 am to 2 pm. There are quite a few stalls selling all sorts of items, although fruit, vegetables and other fresh produce are the star attraction. The goal of this market is to offer customers a wide variety of high quality produce.
Nowadays the market features a large number of food stalls, along with others selling clothes and fashion items. There is also an initiative under way to increase the presence of craft stalls, as well as plant and flower stalls. 
Tuesdays and Saturdays in the Plaça Major, rambla del Carme and rambla del Passeig
Sundays on Passeig de la Generalitat
Monthly markets
In addition to the weekly markets, there are four monthly markets held in Vic:
1
st 

Saturday of the month, Antiques Market in Plaça dels Màrtirs
1
st

 Saturday of the month, Artisanal Market in  Plaça Major
2
nd

 Saturday of the month, Painting and Drawing Market in Plaça Major
3
rd

 Saturday of the month, Record Fair in Plaça dels Màrtirs
---