Vic Comerç represents the city's retail traders' associations
Vic Comerç is the umbrella organisation for all the city's retail associations and has been operating for several years. Its mission is to boost and promote retail in the city. Over the course of the year it organises competitions, campaigns and prominent events such as VicXou, Botiga al Carrer and Santa Tapa in order to provide an added attraction for shoppers and to support its associates.
It also promotes the Urban Card loyalty scheme, offering shoppers discounts and the chance to take part in prize draws organised by shops or by Vic Comerç itself.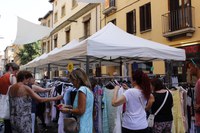 BOTIGA AL CARRER

Several marquees fill Rambla del Passeig, Rambla del Carme and Carrer Manlleu with discounts.
Local shops sell their wares in outdoor stalls, offering great discounts.
---
VIC XOU

El Shopping night of Vic's retail sector
---
Vic Comerç
C/Sant Just, 4
Tel. 938854117
www.viccomerc.cat
info@viccomerc.cat